Like any other hardware component, PC processors aren't perfect, and sometimes they can start malfunctioning due to overheating. There is a number of reasons why overheating happens. Usually the main culprit is inefficient cooling solution (like a bad heatsink), however, overheating can also be caused by a low-quality thermal paste that conducts heats away from the CPU, or by over-stressing the CPU using some kind of an intensive software.
Must read: The Best Budget CPU Coolers
In order to properly monitor your CPU temperatures and avoid such issues before they get worse, you can use a variety of free tools to do that. Here is our list of the best applications to monitor your CPU temperatures on Windows desktop or notebook PCs.
1. HWMonitor
Although it is not the prettiest tool out there, HWMonitor is in our opinion the best app to monitor your CPU and other PC components temperatures. This program was developed by the same team of developers who made the well-known CPU-Z tool. HWMonitor works well with both 32-bit and 64-bit processors, and is frequently updated.
Besides monitoring your CPU temperatures, HWMonitor also monitors yours components' voltages, as well as fan speeds. It can also read modern CPUs on-die core thermal sensors, as well as hard drive temperatures via S.M.A.R.T., and graphics card temperatures. HWMonitor can even detect remaining battery life capacity on notebook PCs.
HWMonitor is available in two version. First one is packed into an installable .EXE file, while the other is available as a portable .ZIP version, so you can install it on your thumb drive. Only downside of this tool is that it can't chart interactive graphs which would enable you to determine at what time did CPU temperatures spiked while you were gaming, or doing some other CPU intensive work.
2. Open Hardware Monitor
Open Hardware Monitor is one of the coolest programs on our list of best CPU temperature monitors. This program has almost the same user-friendly interface as HWMonitor, however, it comes with certain extra features.
Just like HWMonitor, the Open Hardware Monitor can track CPU, GPU, memory, motherboard, hard drives, and other devices' temperatures. It also offers the ability to rename or hide certain values or adjust offsets.
However, the coolest thing about this program is that it can plot graphs for all available temperatures sensors. That way, you can track temperature spikes during certain periods of time, and even log data to analyze it afterwards.
If it weren't in Beta, Open Hardware Monitor would be the first program on our list of best CPU temperature monitors. Nonetheless, this program is being actively developed and updated, which means it has a bright future ahead. Open Hardware Monitor supports all Windows operating systems released after Windows XP, as well as Windows XP itself. The program can run on 32-bit and 64-bit system, and is available in portable .ZIP version only.
3. AIDA64 Extreme
AIDA64 Extreme is an industry-leading system information tool, which is loved by enthusiasts around the world, and which provides extremely detailed information about hardware, as well as benchmarks to measure the computer performance.
This tool provides great diagnostic functions and support for overclocking. It can monitor multiple sensors in real time, and can gather voltage, temperature and fan speed readings. It also offers couple of benchmarks to measure system performance.
AIDA64 Extreme is compatible with all 32-bit and 64-bit Windows editions, include latest ones such as Windows 10 and Windows Server 2016. This program, however, is designed to be paid, but users can try out a free 30-day trail before making the final purchase. Although it is not a free program, this tool provides the greatest range of features to monitor your CPU temperatures, as well as system performance.
4. Core Temp
Core Temp is a compact, no fuss, small footprint, yet powerful program to monitor processor temperature and other vital information.
What makes Core Temp unique is the way it works. It is capable of displaying the temperature of each individual core of every processor in your system. You can see temperature fluctuations in real time with varying workloads. Core Temp is also motherboard agnostic.
Since Core Temp relies on data produced by DTS (or Digital Thermal Sensor) which major processor manufacturers have been implementing in their products for a while now, Core Temp can easily and precisely read real-time temperature information. In that sense, this tool supports all x86 processors made by Intel, AMD, and even VIA.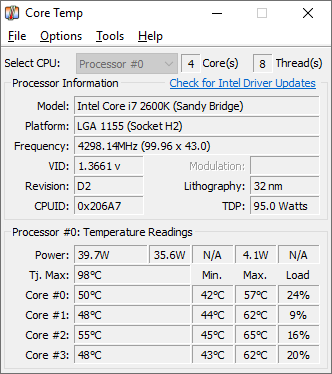 Core Temp is available in both portable and Windows Installer version, and can even be installed on mobile phones. Although it was last updated in August 2019, this tool is still actively supported by its developers and community.
5. Real Temp
Real Temp is another great tool to monitor your CPU temperature. This tool was developed by the guys who run TechPowerUp website, and as such it was meant to be a complementary tool to GPU-Z.
Unfortunately, this app hasn't been updated in a while, however, it still works without any serious issues. Real Temp was designed to monitor temperatures of Intel Core processors, so it might not be a feasible option for monitoring temps on newer AMD processors.
Nevertheless, Real Temp's main advantages are its simple benchmark mode, high temperature alarm and shutdown feature based on CPU and Nvidia GPU temperatures, as well as its low system footprint which requires no additional registry modifications.
Real Temp supports Windows 2000, XP, Vista, Windows 7, Windows 8 and Windows 10 operating systems, as well as 32-bit and 64-bit environments. The program itself is portable "from the box" so you can easily install it on your USB drive if you want to.
6. SpeedFan
SpeedFan has been around for ages. In fact, it is even older than Windows 2000. Despite its age, it is still a reliable tool to monitor PC temperatures, however, it hasn't been updated in a while.
SpeedFan can monitor system CPU temperature, as well as fan speed, and voltage. It can also control fan speed, so that you could make it more quieter, or more efficient. Another great feature of this tool is that you can set up a warning if temps get too high. SpeedFan is also able to plot graphs in order to provide you better insights into your system's temperatures and cooling.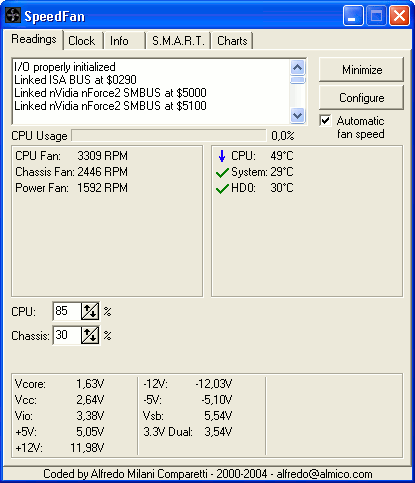 SpeedFan supports all 32-bit and 64-bit Windows operating systems since Windows 95. The program can also access S.M.A.R.T. info and show hard disk temperatures. The program is completely free for use. The latest version was published in 2015, however, the program should still work as expected on most PC systems.
7. Speccy
Although Speccy isn't specifically designed to monitor your CPU temperatures, it can definitely do that. This fast and lightweight system information tool was developed by Piriform, the same company which created a wide-known CCleaner program.
Best thing about Speccy is that it displays detailed information about your system's CPU, RAM, motherboard, graphics card, storage and operating system. Through many indicators Speccy can also show your CPU and GPU temperatures, as well as temperatures of other components.
Cool thing about Speccy is that you can save detailed snaphshots of your system's information as XML or text files for easy sharing. Speccy is available in both 32-bit and 64-bit version, as well as in Windows Installer and portable version. The program itself, unfortunately, hasn't been updated in a while, but it still works as it should on most systems. There is also a paid Professional version which offers advanced insights and automatic updates, however, it will cost you some money.
Final thoughts
And there you have it! This is our list of the best software to monitor your CPU temperature. Most of the programs on our list are free, however some are paid, and some have paid versions which include premium features. Depending on your needs, each should suit your needs in special ocassions.
When talking about CPU temperatures, there are some things to keep in mind. There are no ideal temperatures for your CPU, since there are plenty of chips which can tolerate various temperature levels. However, everything above 75°C is considered unhealthy, and can permanently damage your CPU in the long run. All in all, temperatures below 60°C are considered to be okay. Keep in mind that some CPUs can tolerate very high temperatures, but in order to be sure about that, you should check more info on CPU's manufacturer website pages.
Keeping your CPU and other PC components cool is a number one priority for achieving longer lifespan of your PC. In that sense, it is definitely worth it to invest in additional cooling equipment, as well monitor your system temperatures regularly in order to avoid unpleasant surprises.
Read more