Cyberpunk 2077 has long been considered the ultimate RPG hope. The setting, the story, the developers, the visuals – everything seemed perfect. But after a few postponements, the picture of a perfect game slowly faded away and it became clear that CD Projekt RED might have made too much false promises.
A large number of problems came to light after the game's release in December 2020. From technical problems, such as bugs and performance difficulties, to general errors in the design and complete unplayability on consoles. Since then, CD Projekt RED has been trying to appease players with patches and DLC announcements.
But what has really happened since then? What new content was added with patches? And what updates can we expect in the future? In this article, we are listing the entire chronology of patches, hotfixes and DLCs for Cyberpunk 2077.
1. Cyberpunk 2077 Patches and Updates
Games are usually updated with the first series of patches immediately after release. This is because many technical problems can only be identified shortly before release or immediately at the time of release, which is symptomatic for large titles with a lot of playing time.
Therefore, a so-called "Day One Patch" often appears, which is usually supposed to smooth everything up immediately after the first installation. This is what happened with Cyberpunk 2077. But that was by no means the only update that should've appear right after the release of the game.
Here we are listing all the patches, including the next-gen update that has since been released. You can also find links to the official CD Projekt RED patch notes. 
Patch 1.02 (Day One Patch)
Release: 10.12.2020
Improved stability
Patch 1.03 (PC)
Release: 10.12.2020
Improvements are unknown as no patch notes were released
Release: 12.12.2020
Adjusted the lighting effects on Braindances that can trigger epileptic seizures
Improved stability
Diverse quest bugfixes (e.g. Freedom of the Press, Life During Wartime, A Like Supreme, Spellbound, I Fought The Law, Epistrophy, With A Little Help from My Friends, Queen of the Highway, Violence, Tapeworm, Following the River, Automatic Love)
Release: 19.12.2020
Bug fixes for console versions
Quest bugfixes (e.g. The Heist, Play It Safe, I Fought The Law, Ghost Town, Don't Lose Your Mind)
Release: 23.12.2020
Fixed bugs that crash the game on consoles
Removal of savegame limit on PC
Various improvements for Stadia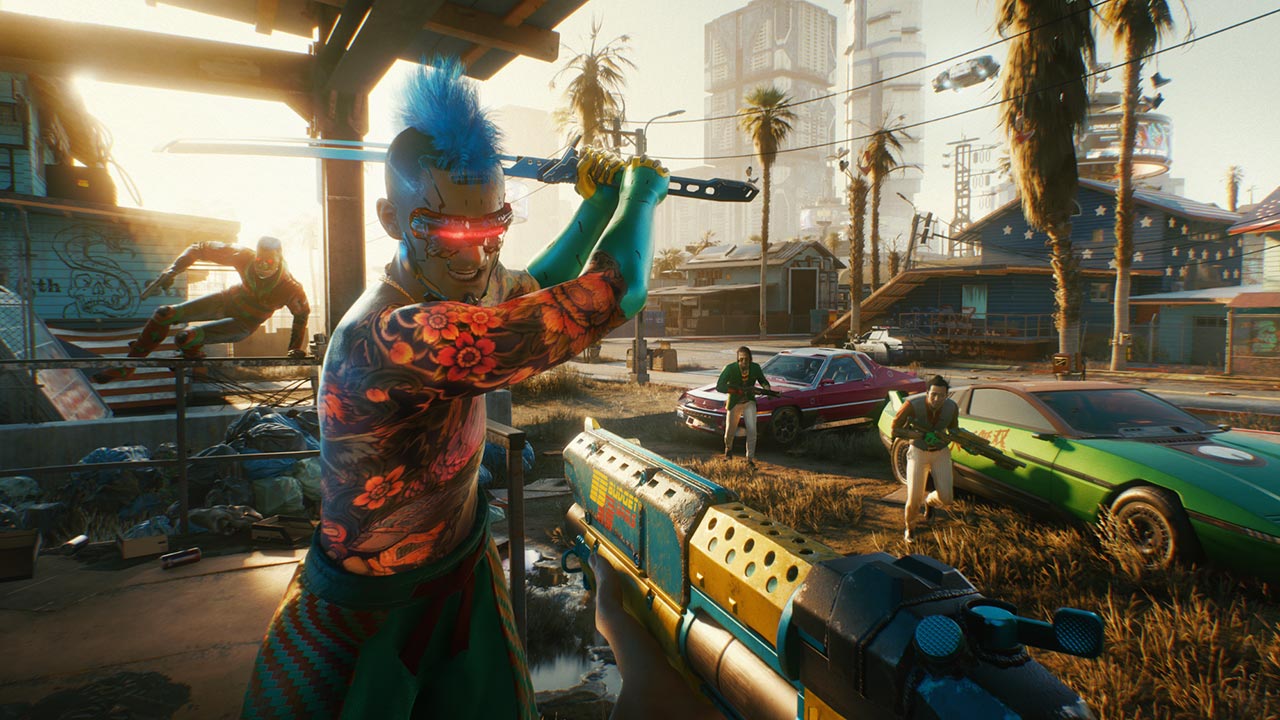 Release: 22.01.2021
Improved stability and fewer crashes
Improved performance on consoles
Bugfixes for multiple quests (e.g. Epistrophy, M'ap Tann Pelen, Pyramid Song, Poem of the Atoms, Down on the Street, Space Oddity)
Fixed save size issues on PC
Introducing offline achievements on PC
Release: 28.01.2021
Removes bugs caused by previous patch (item randomization, quest bug in Down on the Street)
Release: 05.02.2021
Removes security vulnerability on PC
Release: 29.03.2021
Improved stability on consoles and Stadia
Enabling ray tracing on AMD graphics cards
Various performance improvements
Quest bugfixes (e.g. Stadium Love, Never Fade Away, Ghost Town, Double Life, Queen of the Highway, Space Oddity, Automatic Love, I Fought the Law, The Space in Between, Blistering Love, Heroes)
Improved open world design in detail
Graphics, audio and animations improved in detail
Release: 14.04.2021
Improved stability
Quest bugfixes (e.g. Play It Safe, Losing My Religion, Down on the Street, Burning Desire, Night Moves)
Improvement of the police behavior in the game (spawns, AI improvements)
Release: 28.04.2021
Improved stability
Improved memory management
Quest bugfixes (Epistrophy, Down on the Street, New Dawn Fades, Riders of the Storm)
Fixed clipping issues with NPC's clothing
Release: 17.06.2021
Various bugfixes for quests (especially for gigs and cyberpsycho attacks)
Performance improvements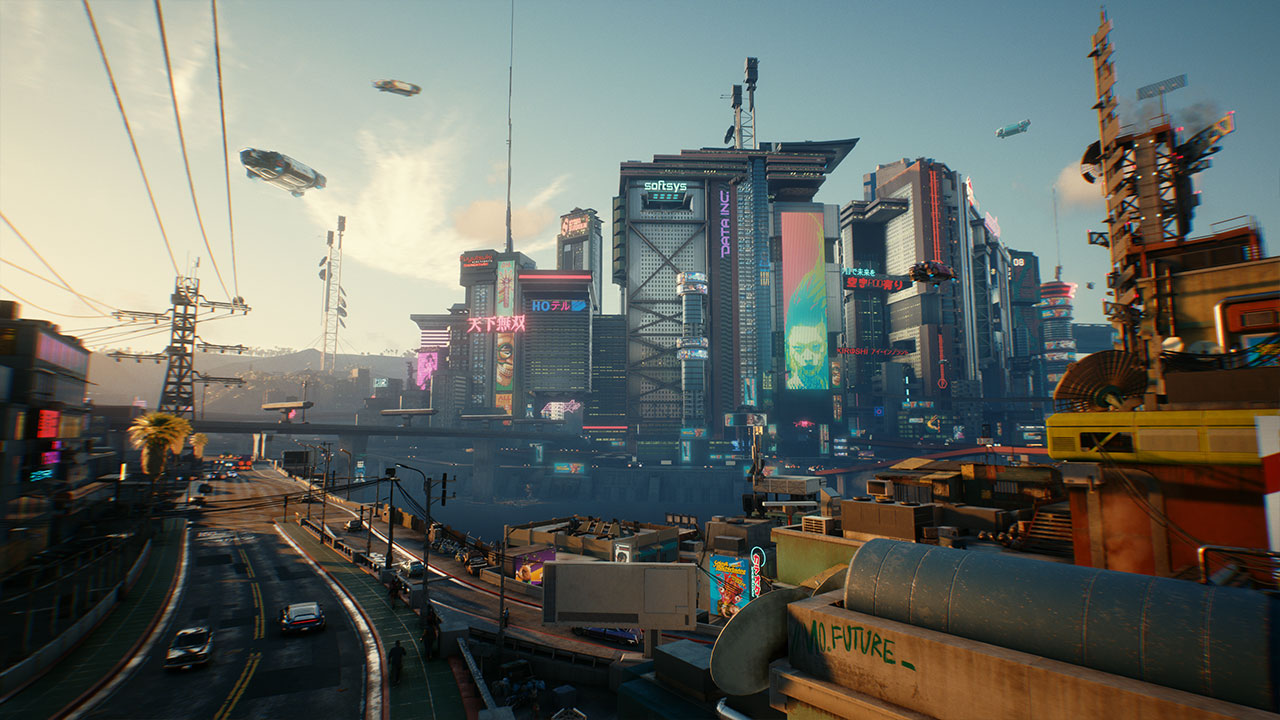 Release: 18.8.2021
Performance improvements
Improved minimap
More storage space on all platforms
New inventory filter for quest items
V's facial animations play correctly in the mirror
Balancing changes
Item improvements
Bug fixes in the game world
Perks can be reset directly in the skill overview
Game breaking quest bugfixes (e.g. Disasterpiece, Gimme Danger, I Walk the Line, Play It Safe, Sweet Dreams, Automatic Love, Beat on the Brat, Big in Japan, Blistering Love, Boat Drinks, Down on the Street, Dream On, Shoot to Thrill, Full Disclosure, Ghost Town, Happy Together, I Fought the Law, M'ap Tann Pelen, Riders on the Storm)
Introduced first free DLCs (more on that in the DLCs and bonus content section)
Patch 1.3 (Hotfix)
No standalone patch (version of the game remains the same)
Removes the need for AVX support, resulting in fewer crashes on older systems
Detection time while sneaking now scales with the selected difficulty
Power jump height has been adjusted
Quest bugfixes (e.g. Disasterpiece, Beat on the Brat, These Boots Are Made For Walking, With A Little Help From my Friends, The Nomad)
More detail on wet surfaces
Memory optimization of the graphics card on the PlayStation
Patch 1.4
Patch 1.4 simply doesn't exist because CDPR wanted to go straight to the next major update, 1.5
Numerous gameplay improvements
Ability overhaul to strengthen different playstyles (perk points are therefore reset when respawning)
"Stealth" tree has been renamed to "Ninjutsu".
Knife Throwing has been redesigned
Improvements to enemy AI in combat (better reactions, different behavior patterns, etc.)
NPCs react to V's actions (also in crowds and vehicles)
New "Burn Out" driving mode activated by accelerating + braking
General improvements to vehicle controls
Adjusted in-game economy: higher rewards for missions and activities, lower prices for vehicles and cyberware
Easy difficulty has been made slightly harder
V can hide from the police instead of running away
Various weapon improvements
Expansion of romances (new messages and interactions)
Fixer system has been improved (display for available orders, gigs are unlocked gradually)
Quest bugfixes
Patch 1.6 (Edgerunners Update)
Wardrobe feature that allows adjustments to V's outfit without changing stats
Three new fixer orders
Six new firearms
Five new melee weapons
Cross-platform progression
Cyberpunk: Edgerunners Anime Bonus Content (Gear, Photo Mode Features)
Arcade game "Roach Race"
Pose for nibbles in photo mode
Customization of V's body and face in Ripperdoc clinics
New four-wheel drive variant of the Thorton Colby
New weapon balancing
Benefits for using poisons
More mysteries in Night City (only on PC and next-gen)
New item preview when purchasing items
New hairstyles
Higher graphics quality on the PC
New Performance mode on Xbox Series S
Various small bug fixes
2. Cyberpunk 2077 Next Gen Patch (PS5 und Xbox Series)
One of Cyberpunk 2077's first patches was supposed to be the next-gen patch that upgraded the game for PS5 or Xbox Series X/S. This was announced early on and would actually have been released in 2021. Instead, the patch was postponed to the first quarter of 2022.
On February 15 2022, CD Projekt RED released the first gameplay from the next-gen versions of Cyberpunk 2077 via live stream. These are half-hour videos that show the innovations on Playstation 5 and Xbox Series X. We link both videos here for direct comparison.
Next Gen Gameplay – PlayStation 5
Next Gen Gameplay – Xbox Series X
Surprisingly, this wasn't just a foretaste of the next-gen versions, but the prelude to the release. Following the live stream, the PlayStation 5 and Xbox Series versions were officially released.
The following content is exclusive to next-gen consoles:
Ray tracing for local shadows
Dedicated support for trophies/achievements on consoles
Two new graphics modes: "Performance" and "Raytracing" (PS5 and Xbox Series X only)
Improvements in performance
Various graphic improvements
Use of adaptive triggers on PS5 controllers (haptic feedback and controller speakers)
Spatial Audio for Headphones and TV Speakers with 3D Audio (PS5)
Activity Cards for PS5
Spanish sound output for all regions
Free trial version: available up to 30 days after release, 5 hours playing time, save game transfer possible
3. Cyberpunk 2077 DLCs and bonus content
Similar to their previous title, The Witcher 3: Wild Hunt, CD Projekt RED planned from the start to add DLC and bonus content to Cyberpunk 2077. Smaller packs and improvements such as new items (outfits, weapons, etc.) were added completely free of charge. Larger DLC content will probably be extensive story extensions that will appear later and will probably also cost money.
For a long time nothing concrete was published except for plans for the upcoming content. This was mainly due to the fact that the focus after the release was still on improving the main game and various bug fixes.
With patch 1.3 in August 2021, the first DLC content finally found its way into the game. Patch 1.5 was followed in February by an extensive update that added more free content to the game. Here is a list of all the bonus content that has already been released for Cyberpunk 2077.
Alternate appearance for Johnny Silverhand (free bonus content made available with patch 1.3)
Layered Synth Leather Delta Jock Jacket and Glowing Punk Jacket plus schematics for crafting (free bonus content made available with Patch 1.3)
Archer Quartz "Bandit" vehicle (free bonus content that became available with patch 1.3) – either available as a reward or for purchase (depending on game choices made)
New Apartments: Northside/Watson, Japantown/Westbrook, The Glen/Heywood, Corpo Plaza/Downtown, plus interactions within the apartments that grant temporary buffs (free bonus content made available with patch 1.5)
Change Appearance: V's appearance can be customized in-game on the mirror, more options for makeup and hair colors (free bonus content made available with patch 1.5)
New Weapons: Darra Polytechnic Umbra (power assault rifle) and Budget Arms Guillotine (power submachine gun) are available from Wilson in the 2nd Amendment, plus new scopes and weapon attachments (free bonus content made available with patch 1.5)
Johnny Silverhand photo mode: custom poses for Johnny, only available when playing as Johnny (free bonus content made available with patch 1.5)
Cyberpunk: Edgerunners anime bonus content including new gear and secrets in Night City inspired by the anime (free bonus content made available with Patch 1.6)
According to the development team, many more DLC content are planned. CD Projekt RED also wanted to add a multiplayer mode. It is difficult to estimate at this point in time whether and when this will be possible. It is already suspected that the multiplayer part has been completely canceled.
In addition, the first story DLC called "Phantom Liberty" was announced, which should be released in 2023 for all platforms. In it players will explore a new part of town and get another appearance from Keanu Reeves as Johnny Silverhand.
As more information becomes available about upcoming patches, hotfixes, and DLC content, we'll update this list for you. Until then, you'll have to decide for yourself when it's worth making another trip to Night City.
Read more