In a Nutshell
Scimitar RGB Elite features great improvements compared to its predecessor. This premium quality gaming mouse comes with a variety of options which will be very appealing to MMORPG gamers, as well as occasional FPS players.
---
Corsair recently expanded its range of gaming mice with the Scimitar RGB Elite. In truth, it is more accurate to say the company restored it, as Scimitar RGB Elite is a direct successor and replacement of the three-year-old Scimitar Pro RGB, which was very popular among RPG and MMO gamers. Visually, the new variant is completely identical to the previous one, however, it comes with a new sensor, better materials and reduced weight, which is why this mouse could end up on the tables of occasional FPS gamers as well.
Corsair Scimitar RGB Elite Specifications
| | |
| --- | --- |
| Sensor | Optical (18.000 DPI) |
| Buttons | 17 |
| Connectivity | USB 2.0 Type-A Wired |
| Weight | 122 Grams |
| Grip Type | Palm |
The Corsair Scimitar RGB is available at a suggested retail price of $79.99, which puts it in the top price range of gaming mice. This mouse is primarily designed for right-handed users who frequently rest their entire palm on their mice. The Scimitar RGB Elite features large dimensions, and the height of its body is especially pronounced, which makes the mouse look imposing, even in larger fists. Its case is made of solid plastic coated with a fine matte finish, with some details being made of glossy plastic, and an illuminated company logo on the background. On the right side of the mouse is a rough rubberized protrusion, on which the ring finger naturally falls, while the little finger gets its own vertical surface and does not slide across the table during use.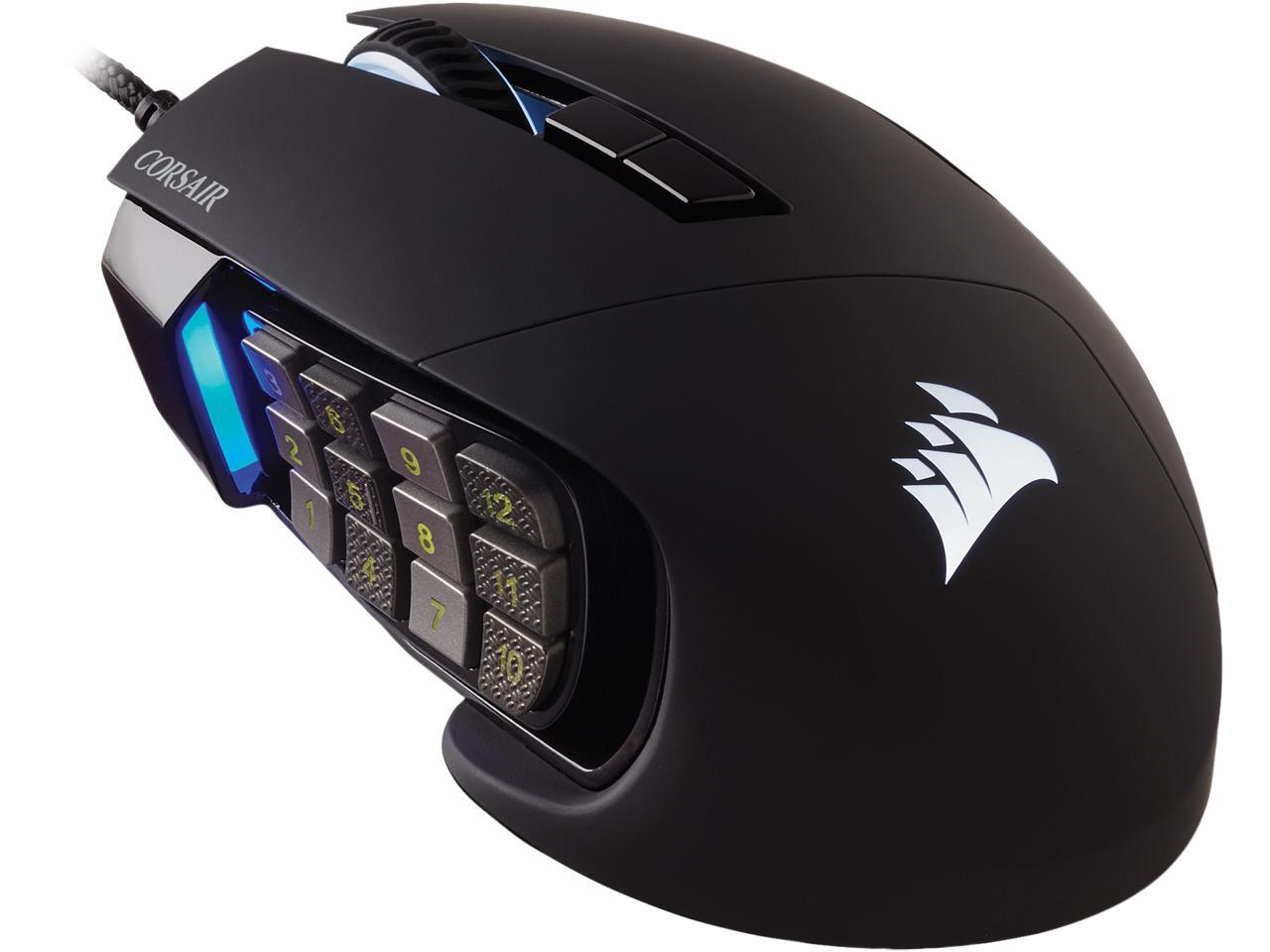 Beneath a medium-hard, rubber-coated plastic wheel, from which lightning is also visible, there are two programmable keys. The keys are assumed to have a sensor sensitivity change function, but can be assigned any other function with the driver suite. The wheel, unfortunately, cannot be moved horizontally which is a bit disappointing for a such premium gaming mice.
On the left side of the Scimitar RGB Elite proudly stands a module with as many as 12 additional programmable keys in three rows. Each of them is placed at a unique angle, and every other column is slightly perforated, so even without looking it is easy to guess which key the thumb is on. Even in the dark, the keys are easily visible, as they are illuminated. The side buttons provide slightly more resistance than usual, but this is necessary so that the user doesn't accidentally press them when he or she lifts the mouse off the surface. This module can be moved horizontally thanks to the screw on the underside of the mouse, where there are also four Teflon feet that help the mouse to glide comfortably on the surface. The mouse connects to the computer with a 1.8 meter long coated cable, which at first seems a bit stiffer than we would expect, but softens very quickly and does not create problems when used.
Speaking of Scimitar's case, it is worth to mention that is made from high quality materials which are also significantly lighter compared to the previous model. The mouse weighs 122 grams without cables, which is very little, considering its dimensions. This means that this mouse will also be suitable for occasional FPS play, and not just work and MMO/RPG gaming for which was primarily intended. Also, although the manufacturer imagined that we would use this mouse by placing whole palm on it, thanks to its acceptable weight it is possible to use it by holding it with fingertips. In this case, the mouse has been shown to be well balanced and does not pull to either side. Its extra buttons on the left and perforated grip on the right are enough to keep the mouse from slipping out of the fingers even in moments of fierce action.
Whichever gaming play-style you throw at it, the Scimitar RGB Elite will do a good job, all thanks to a very good PMW3391 optical sensor, based on PMW3389 sensor with custom SROM and firmware that allows it to have a resolution of up to 18,000 DPI. At all the settings tested, the mouse behaves very well, without the unpredictable acceleration we would feel. It is accurate even without bouncing, and at very high DPI, so we don't predict you will have any problems using it, whether you are low-sens or high-sens player. Also, the lift-off distance of the sensor (the one at which the sensor detects movement) is relatively low, so there are no unwanted cursor movements or sights when playing at low sensitivities.
The mouse buttons are solid quality built, with moderate resistance, but a slightly higher stroke than we would like, at least when playing first-person shooters. This makes them a bit spongy, but this will only be noticeable by experienced users, and will not be a problem for most. The side buttons are not completely stable and wobble under your fingers, but despite that, they work well. Beneath all the keys are Omron microswitches, which should mean they will last long time before they expire.
The Scimitar RGB Elite comes with its own dedicated driver suite. Corsair's iCUE driver software allows you to create an infinite number of user profiles that can be changed manually or automatically, deepening on the application you run, while three profiles can be saved to device's internal memory. Driver suite also allows you to record macro commands and program available keys. At the same time, it also allows user to adjust hardware settings, such as color and RGB lightning effects, as well as adjust up to five levels of mouse sensitivity per profile in 1 DPI increments.
The driver software also allows you to calibrate the substrate in order to prepare the sensor for what it will read. This, of course, doesn't need to be done – the mouse performs equally well on rag mat surface before and after calibration. A minor complaint to the driver goes to its hardware complexity. Namely, the application loves RAM. It is not a large amount, but the fact that its memory usage is equal to Steam, Origin and Discord apps combined says a lot. We therefore recommend that you do not keep the application open, especially if you don't need more than three user profiles.
The Corsair Scimitar RGB Elite mouse is designed for a very specific audience, to which it offers a lot. Its module with additional keys is a very useful addition, and the fact that it can be moved is very welcome. For fans of MMO games or those who want a mouse that will improve their productivity in applications with many abbreviations, this is a great choice. Despite its relatively high price, this mouse offers a lot, but we would be much happier if it was wireless. Hopefully next iteration will feature such upgrade.
Read More