Crossplay isn't the same thing as cross-platform. In fact, cross-platfom is a much broader term than crossplay, as it refers to a type of computer software which is implemented on multiple computing platforms. For example, Destiny 2 is a cross-platform video game, since you can play it on multiple platforms, and it supports cross-save feature, which enables you to continue your progress on another gaming platform, in case you decide to switch to it.
Read also: How To Play Android Games On PC?
On the other hand, crossplay, or cross-platform play, is a term which signifies the ability of players using different video game hardware to play with each other simultaneously. This means that a player who uses Xbox console is able to play a game with the player who uses PlayStation console, or even personal computer. Couple of years ago, crossplay games were still a rarity, however, things are changing for the better as more and more publishers start to release games featuring crossplay support.
There are two main reasons why crossplay feature isn't so widespread in gaming industry. First of all, different gaming platforms use different input methods. For example, Xbox and PlayStation don't have the same controller scheme, while PC players mostly use keyboard and mouse for interaction. It is thought that PC players are much superior to console players in first-person shooters, due to the fact that mouse and keyboard enable them to react faster compared to console players who use controllers.
Another reason why some publishers won't implement crossplay feature in their games is that console manufactures won't give up on their exclusive online services which help to establish unique user environments. For example, PlayStation 4 owners can't play Rocket League with Xbox One players, but can with PC players.
Nevertheless, crossplay gaming seems to have a bright future, as many developers and publishers are starting to implement this feature in their games. Thanks to Minecraft and Fortnite, which popularized this feature, number of games supporting crossplay is growing by the day. In that sense, we have prepared a list of best crossplay games you can play right now in 2021. Take a look!
1. Minecraft
Almost 10 years after its official release, Minecraft is now a completely different game. And for the better. At the very beginning it was a game whose information was spread by mouth in schools and playgrounds across the world. Today, Minecraft is a huge franchise with its own spin-offs, movies and merchandise.
Even though at first it didn't have a main story, Minecraft today features a very solid singleplayer campaign in which primary objective is to kill the ender dragon. However, in its roots, it is still a vast sandbox game in which you can do pretty much anything you want. From building houses, cathedrals, skyscrapers, making artificial lakes, caves and mountains, Minecraft is still an evergreen classic. When you get bored with that, there is still plenty of stuff to do. You can reorganize your creations, download new mods, play with your friends online, join server contents and so on.
This beautiful game fully supports cross-platform play features among PC, Xbox One, PS4, Nintendo Switch, and mobile players. Since playing with friends never felt so easier, Minecraft is the first entry on our list of the best crossplay games in 2021.
2. Call of Duty: Modern Warfare (2019) / Warzone
If we were to give the award for the best game with crossplay support in 2021, then that would be Call of Duty: Warzone. There are several reasons why is that the case.
First of all, both Call of Duty: Modern Warfare and Call of Duty: Warzone are great online multiplayer shooters. They are set in very a mature setting, and offer plenty of realistic gameplay scenarios, weapons and characters with which many gamers can relate to. Both games also have amazing visuals, and don't offer that cartoonish look which many games seem to be following these days.
Secondly, both Modern Warfare and Warzone support cross-platform play straight out of the box. By enabling crossplay support in game's settings, you can easily connect and play with your friends on many gaming platforms such as PC, PlayStation 4 and Xbox One. Despite being an online shooter, the crossplay feature works flawlessly, and gameplay mechanics are well balanced between various platforms. That means that you won't encounter competitive PC players if you are a low-ranking console player. In that sense, you don't have to worry about getting shot all the time.
Thirdly, playing Call of Duty with friends across different gaming platforms is extremely fun. Besides standard game modes such as Team Deathmatch, or Search and Destroy, there is also a brand new Groud War mode, as well as Warzone battle royale mode. The co-op Spec Ops mode is also back, so you can easily play with your friends against enemy bots and AI, provided you don't fancy online multiplayer environment.
Taking into consideration all of that, Call of Duty: Modern Warfare offers great crossplay experience, and that is the reason why this is our second-best crossplay game of 2021.
3. Fortnite
Drawing more than 125 million players worldwide in less than a year, Fortnite became the most popular online multiplayer shooter game in the world as we know it today. Produce and developed by Epic Games, Fortnite is a cooperative shooter-survival game in which 100 players fight to be the last person standing in battle royale fashion.
Fortnite is distributed in three different modes: Save the World, Battle Royale and Creative, however, the Battle Royale is the most popular. Game runs on Unreal Engine 4, and besides shooting, it also features Minecraft-style building mechanics, such as collecting resources and building fortifications. The game also features various loot box systems, as well as microtransactions which were frequently criticized for being too abundant. Nevertheless, being so popular, Fortnite quickly became a cultural phenomenon. The game fully supports crossplay features between PC, Xbox One, PS4 and Nitendo Switch platforms, however, these features are prone to frequent changes, so don't be surprised if some of them become unavailable, as was the case in the past.
4. Rocket League
Winner or nominee of more than 150 'Best of 2015' Awards, Rocket League is one of the most popular crossplay games out there, attracting more than 57 million players worldwide. Developed and published by Psyonix, Rocket League is a unique game in many ways.
First of all, it is a vehicular soccer video game in which players simply play soccer, but with rocket-powered cars. If that doesn't already sound fun to you, then imagine what that means you add physics into the mix. Being a high-powered hybrid of arcade-style soccer and vehicular mayhem games, Rocket League features easy-to-understand controls, and fluid physics-driven competition. Game comes with various casual and competitive online multiplayer modes, and features more than 500 trillion possible cosmetic vehicle customization combos according to the developer.
Being so popular, Rocket League is also a well-recognized eSports title with its own tournaments and competitions. Game supports crossplay feature across various platforms, however, there are some caveats. PC players can freely engage in crossplay sessions with Xbox One, PS4 and Nintendo Switch players, however, PS4 players can't play with Xbox One, as well as Nintendo Switch players, and vice versa. Yeah, we know. Weird logic here.
5. Hearthstone
Hearthstone is another free-to-play game on our list of best crossplay games to play in 2021. Developed and published by the well-known Blizzard Entertainment company, this game is unique in many ways.
First of all, Hearthstone is an online digital collectible card game in which two players play against each other using turn-based gameplay mechanics. Each player has its own deck of 30 cards, and can select a hero with unique powers which will aid him in the duel. Main goal of the game is to defeat opponent's hero, while winning can result in earning in-game gold, or obtaining a new card.
Hearthstone extensively builds upon the existing lore of Warcraft, and even expands it in some ways. Probably the coolest thing about this game is its crossplay feature which enables players on iOS and Android devices to play against players on Windows PC and macOS devices. So far the game has proven to be a major success for Blizzard Entertainment, and has even become a very popular eSports title with cash prize tournaments and contests.
6. SMITE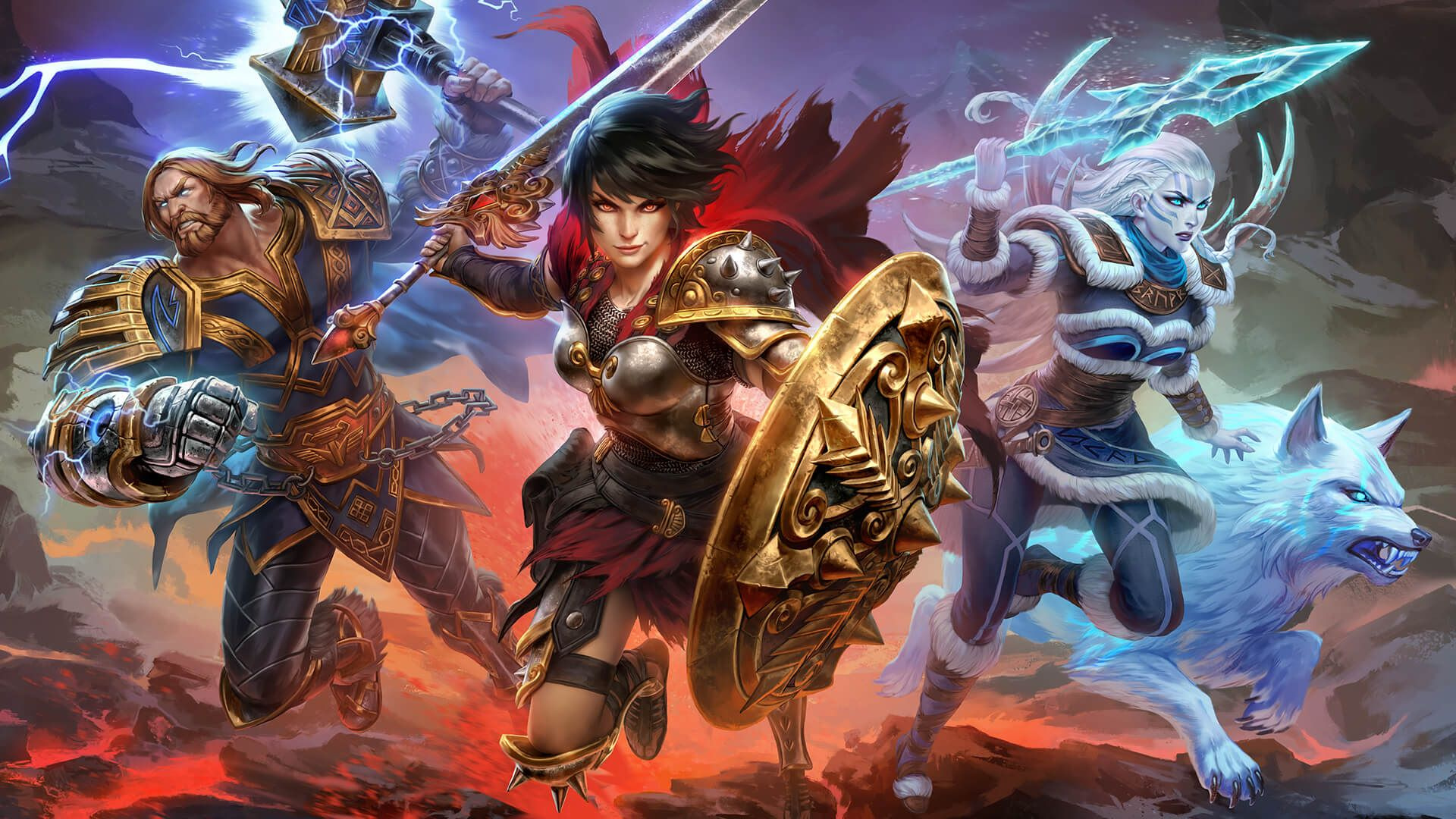 SMITE is a free-to-play, third-person multiplayer online battle arena (MOBA) game developed and published by Hi-Rez Studios, the same studio which also made Paladins: Champions of the Realm game. Unlike other MOBA games, SMITE puts you directly onto the battlefield where you have the chance to control your character from third-person action viewpoint.
In SMITE, you can control gods, goddesses, and other mythological figures, and take part in team-based combat which heavily relies on implementing team tactics and character's special abilities. Attracting more than 35 million players worldwide, SMITE is also a successful eSports title with an engaging player scene and multiple tournaments. In terms of gameplay, game features multiple player versus player (PVP) modes, and fully supports crossplay gameplay feature between PC, Xbox One and Nintendo Switch players. According to the developer, SMITE will also support crossplay on PS4 in near future, so we are excitingly looking forward to that.
7. Dauntless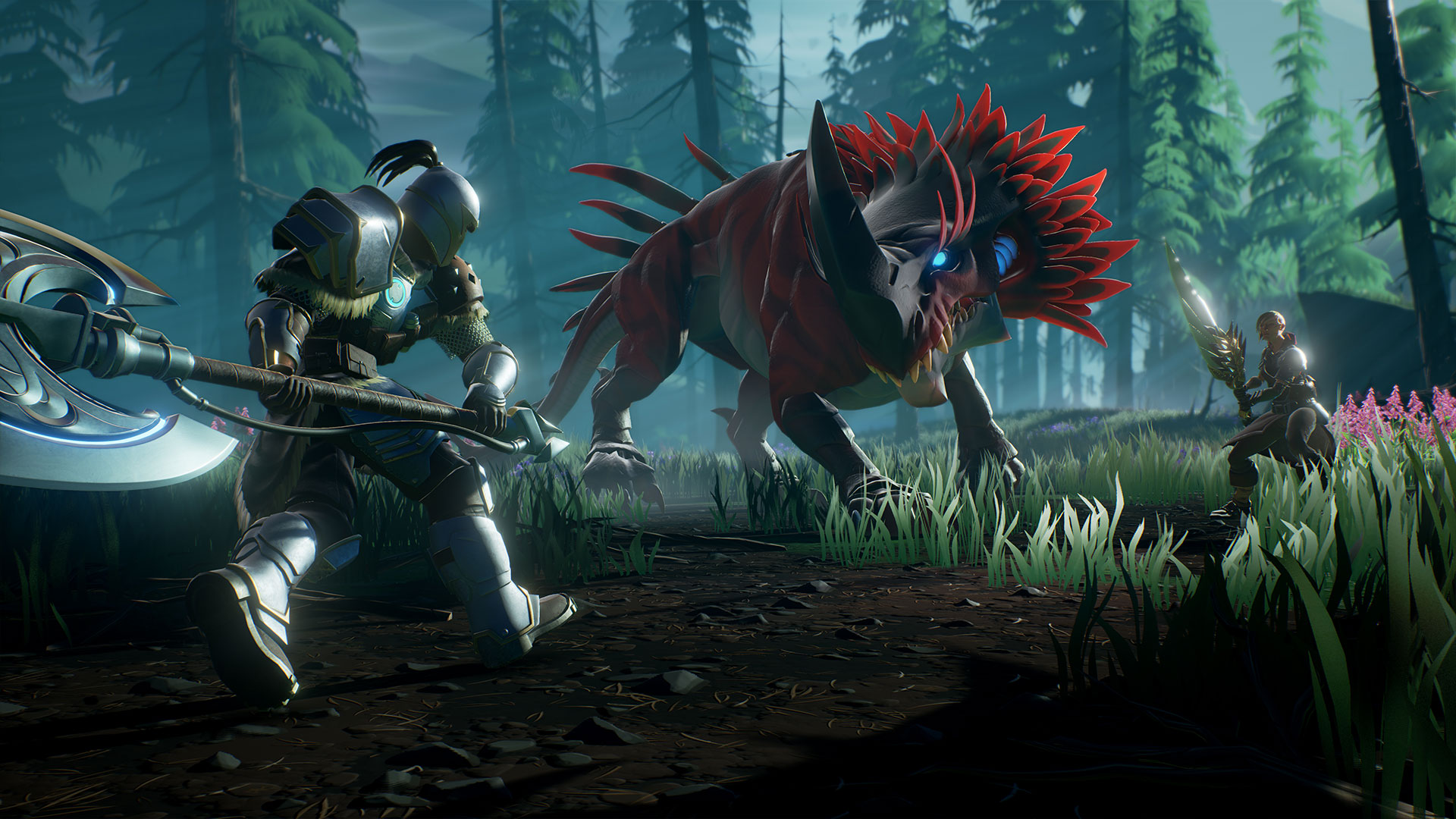 Dauntless is a free-to-play action RPG game developed by Phoenix Labs and published by Epic Games. Considered by many to be a Monster Hunter clone, Dauntless is a game set in a fantasy post-apocalyptic world where monstrous creatures roam around and prey on surviving humans. Players take role of hunters, or Slayers, which have a task to hunt down roaming monsters. After slaying down creatures, players are rewarded with loot which they can use to craft and upgrade weapons and equipment to hunt down larger monsters.
In game, you can also customize your armor, as well other features which can give your character a unique look. You can play the game alone, or team up with up to four friends or strangers in order to take down bigger creatures. Cool thing about Dauntless is that the game fully supports crossplay feature between PC, Xbox One and even PS4 platforms, so you can easily team up with your buddies which may own different gaming devices. Taking that into consideration, Dauntless is definitely one of the best crossplay games out there.
8. Street Fighter V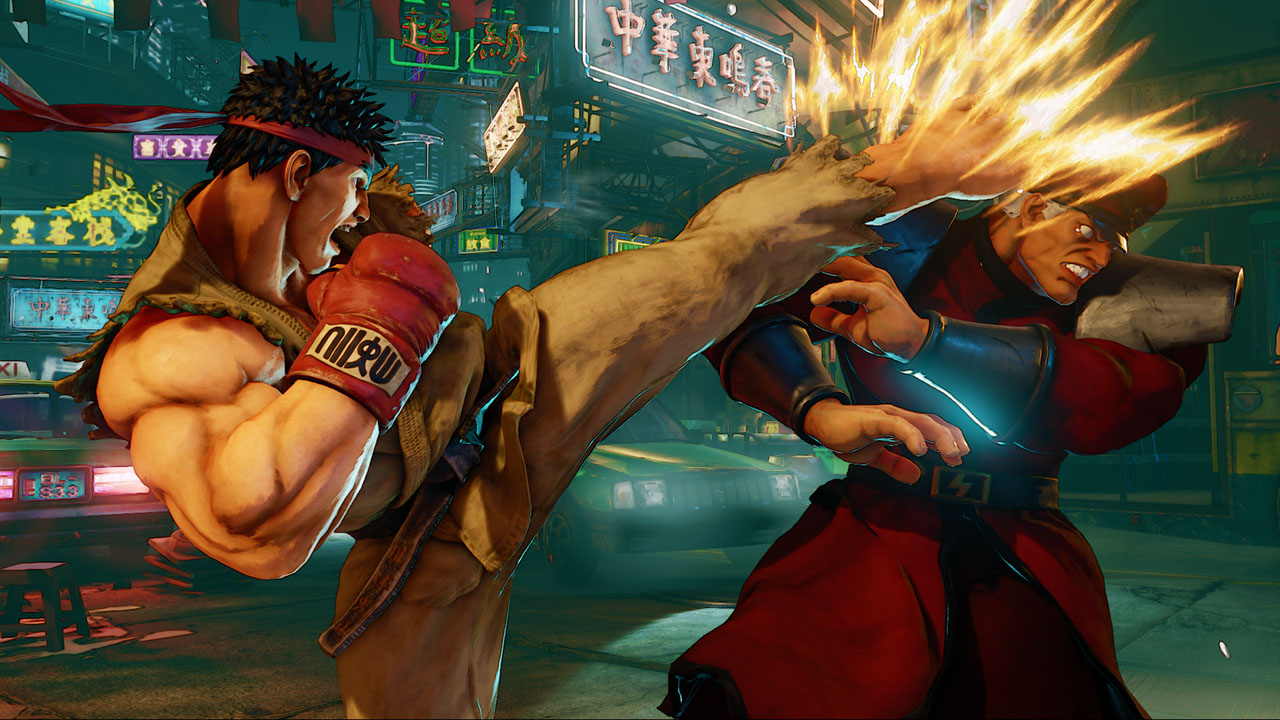 Being a sixth (yes, sixth) installment in one of the most beloved Japanese video game franchises, Street Fighter V is the ultimate brawler game. If you want to experience intense head-to-head battle, and indulge in endless fights with your friends, or AI combatants, then this is a great game for you.
In Street Fighter V, players can choose from 16 different characters, each with their own special abilities, and then battle against others in order to earn rewards, XP and Fight Money, Obtaining Fight Money ensures you to purchase new characters, skins and stages, and to customize your overall beat 'em up gaming experience according to your needs. Unlocking powerful new techniques will motivate you to keep fighting further, while playing against friends or strangers in multiplayer mode will force you to get better in order to receive the respect you deserve. Street Fighter V also fully supports crossplay feature between PC and PS4 players, which is another great reason to buy this game.
9. DC Universe Online
First launched in 2011, DC Universe Online is now one of the best-known cross-platform play massive multiplayer online action games. Set in the popular DC Comics universe, players can take roles of legendary comic characters such as Batman, Superman, Lex Luthor and The Joker.
The game features fast-paced action combat in which you get the ability to use different super powers and control every blow your character strikes. Besides customizing your character and getting involved in various fights, you can also explore Gotham City and its surroundings, as well as embark on multiple story-driven adventures. This game is particularly fun to play with your friends, however, crossplay feature is only supported between PC and PS4 players. Xbox One and Nintendo Switch players can also play the game, but their online communities are kept on separated servers due to incompatibility issues.
10. Paladins: Champions of the Realm
Paladins: Champions of the Realm is a free-to-play online shooter made by Hi-Rez video game studio. This game, which many gamers consider to be a free-to-play Overwatch clone, fully supports crossplay feature across Xbox One, PC, PS4, and even Nintendo switch gaming platforms.
In the game, players take roles of champions which have their own special abilities, and can be categorized into four different classes: Front Line, Damage, Support and Flank. Since this is a team-oriented shooter, players must rely on strategy, coordination and character knowledge in order to accomplish victory. Besides classic multiplayer modes such as Team Deathmatch and Onslaught, this game also features Siege and Ranked modes which strive to offer novelty in online multiplayer shooters.
Conclusion
As you can see, there are plenty of great crossplay games to play in 2021. Some of them shooters, some of them are turn-based RPGs, and some of them, like Rocket League, or awesome digital sports video game titles. With so many options to choose from, we are sure that you'll be able to find the right game that will satisfy your needs. We hope our guide helped you in search of the information you were looking for. If you still feel confused, and need advice, feel free to post comment below. We will try to help you.
Read more